ALTRINCHAM LITTLE THEATRE
Screenings are held in Altrincham Little Theatre, on Oxford Road near the centre of Altrincham. There is plenty of parking available on a Sunday (see below).
The theatre has a large screen, and there are excellent bar facilities.
Complimentary tea, coffee and biscuits will be available in the bar area where the post-film discussion will be held.
The theatre will open from 2.15, film introduction will be at 3.00 and film screening starts at 3.15.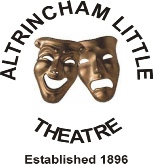 ---
ADDRESS
Altrincham Little Theatre
Oxford Road
Altrincham
WA14 2ED

PHONE
0161 928 1113

EMAIL
---
CAR PARKING / PUBLIC TRANSPORT
Oxford Road
Pay and display parking is available on Oxford Road where the theatre is, it is free on Sunday.


Regent Road car park, WA14 1RR
approx. 5 minutes' walk from the theatre
Parking is free on Sunday.


Tesco Supermarket car park
Up to 3 hours free parking


PUBLIC TRANSPORT
The Metro/Bus station is a 8 minute walk from the theatre, turn left out of the station and walk up Railway Street/Stamford New Road to the lights at Lloyd Street. Cross over to the Unicorn pub on the corner, turn left and you are a few yards from the theatre on Oxford Road.
Park for free at
Sainsbury's have kindly agreed to allow free parking at their carpark between 2.00pm and 6.30 pm for people attending the season of Italian Cinema.
Vehicle registration numbers need to be added to the booking form so that Sainsbury's can be advised. Parking needs to be booked at least 48 hours in advance. Arrangements cannot be made on the day.
If you are booking multiple films you only need register once and parking will be available on all film afternoons.
A big thank you goes to Sainsbury's for the use of their carpark for our Sunday screenings of Italian films. This is part of their community outreach initiative to help small community enterprises. Please park in the overspill carpark on the left hand side as you enter the carpark so as not to inconvenience shoppers at the store. Sunday is a very busy shopping day in Altrincham, so to be able to park right behind the theatre is a wonderful gesture by Sainsbury's.