ALTRINCHAM LITTLE THEATRE
Screenings are held in Altrincham Little Theatre, on Oxford Road near the centre of Altrincham. There is plenty of parking available on a Sunday (see below).
The theatre has a new large screen 16ft wide by 10ft high.
The theatre will open from 2.30, film introduction will be at 3.00 and film screening starts at 3.15.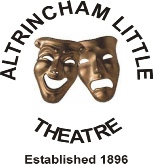 ---
ADDRESS
Altrincham Little Theatre
Oxford Road
Altrincham
WA14 2ED
www.alttheatre.org


PHONE
For film enquiries:
mobile 07925 382805

EMAIL
info@manchesterfilmweekender.org.uk
---
CAR PARKING / PUBLIC TRANSPORT
You can reserve a parking space in the Altrincham Sainsbury's overflow carpark: use this link to book.
All day parking is £5.65, so book plenty of time before and after the film, the price won't change.
Parking is in the overspill spaces on the left as you drive into the car park. (You must park there otherwise you will be fined.)
Stamford Quarter Multi-storey Car Park, WA14 1RH
about a 12-minute walk from the theatre
620 spaces
Oakfield Road Car Park, WA15 8EW
Behind the Bus/Metro station, about a 12-minute walk from the theatre.
267 spaces

PUBLIC TRANSPORT
The Metro/Bus station is a 8 minute walk from the theatre, turn left out of the station and walk up Railway Street/Stamford New Road to the lights at Lloyd Street. Cross over to the Unicorn pub on the corner, turn left and you are a few yards from the theatre on Oxford Road.